I believe many of you are under the assumption now that everyone is locked at home due to the current "situation", that the publishers are earning crazy bucks and is having the time of their life right? Well, normally, that would be the case, but what we all didn't know is that the ad rates is easily influenced by the economic situation.
Since Digital ad budgets are the fastest and easiest to pull when the market drops and revenue forecasts for public companies (the ones that advertise the most) change; digital ad campaigns rarely involve any sort of contract, and it's pretty simple to cut a campaign or add one back in quickly. Businesses who advertise, particularly public companies, want to keep their company in or near the black as much as possible, especially as they have to report their earnings at the end of Q1 (March 31st). If they can easily cut an expenditure, they will.
The long and short of it is that since everyone is now locked at home, there are much lower demands for stuffs like petrol and non-essentials, so the public companies spend less money to advertise their stuff, which in turn drag down the ad rates. Here's an easy diagram to compare the fall in ad rates compared to last year: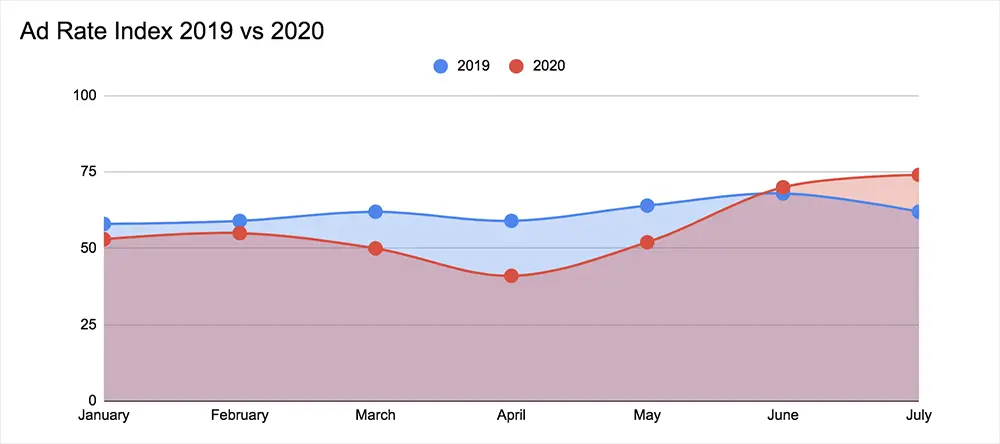 Another factor which I believe is causing the ad rates to fall is that the ads on mobile devices tend to have a higher rates, but now that everyone is locked at the comfort of their home and is more likely to use their PC than their phone, that has in turn deflated the ad rates we are earning. Not to mention that it is far more easier to install Adblocker on a PC than a phone.
If it is not too much to ask, we'd appreciate it if you can add our site to your Adblocker's whitelist. And I know some of you out there may be eager to help, but I don't recommend to spam click the ads. Clicking the ads and immediately closing it would instead increases the bounce rate and be treated as an "ad fraud", it would actually do us more harm than good. We'll be eternally grateful if you can just whitelist our site and only click on an ad which you are genuinely interested in.
I know this is a hard time for everyone, but we all should do our part to stay at home and prevent the spread of the epidemic as much as possible. Please stay safe and keep yourself healthy, we can get through this together. Bless you.